Whether you're a seasoned investor or a first-time buyer land buyer this guide will show you the 10 best places to buy land in Texas in 2023.
Texas, known for its diverse landscapes and booming economy, offers a myriad of opportunities for land buyers. From the bustling city outskirts to serene rural areas, the Lone Star State has something for everyone.
In this guide, we'll explore ten of the most promising locations to buy land in Texas, each with its unique charm and potential. We'll delve into the specifics of each area, discussing the benefits and potential drawbacks, to give you a well-rounded view.
We'll also consider factors such as growth trends, economic stability, and lifestyle amenities that make these locations stand out. So, whether you're looking to build a home, start a business, or invest for the future, read on to discover the best places Texas has to offer!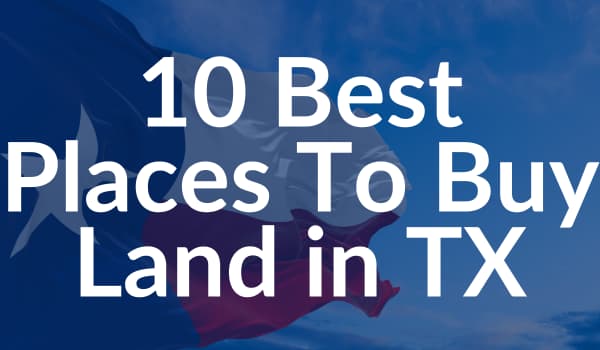 Table of Contents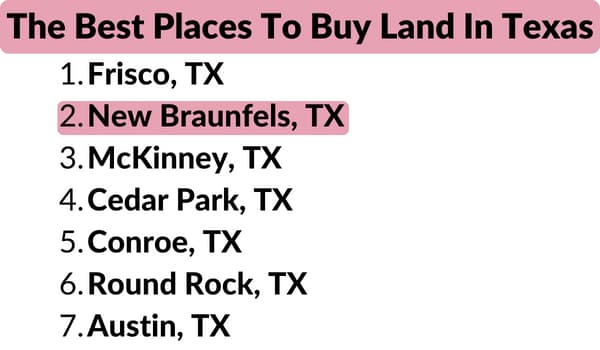 Frisco, TX
Frisco is a rapidly growing city located in the Dallas-Fort Worth metroplex of Texas. Known for its high quality of life, excellent schools, and thriving economy, Frisco has become a sought-after destination for families and businesses alike. The city boasts a diverse range of amenities, including world-class sports facilities, shopping centers, and a vibrant arts and culture scene.
Reasons why Frisco is a good place to buy land
Frisco's real estate market has been showing a notable increase, with the median listing home price standing at $725,000 in April 2023. The city's continuous growth and development make it a promising location for land investment. Furthermore, Frisco's strong economy, bolstered by a range of industries, ensures a stable market with potential for high returns on investment.
The city's excellent infrastructure, coupled with its commitment to maintaining a high quality of life for its residents, makes it an attractive option for those looking to build homes or businesses.
Potential drawbacks of buying land in Frisco
However, the rising property prices in Frisco could be a potential drawback for some investors. The market has seen a slight cooling, with some reports indicating a small decrease in housing prices. This could be a sign of market saturation, which may affect the potential for high returns on land investments.
Additionally, the high demand for property in Frisco has led to increased competition among buyers, which could make it more challenging to secure prime land at a reasonable price.
New Braunfels
Situated in the picturesque Texas Hill Country, New Braunfels stands out as a captivating city exuding charm and character. Boasting a captivating blend of history, culture, and natural splendor, this hidden gem beckons land buyers with its enticing offerings.
New Braunfels not only presents a small-town ambiance but also embraces modern conveniences, making it an alluring prospect for those seeking to invest in land. With an array of recreational activities, including the renowned Schlitterbahn Waterpark, the historic Gruene Hall, and the enchanting Comal and Guadalupe Rivers, New Braunfels is a haven for those seeking a vibrant lifestyle.
Reasons why New Braunfels is a good place to buy land
The exceptional housing market of New Braunfels further enhances its appeal as a prime location for land buyers. As of June 2023, the real estate market showcases dynamism, with a median listing home price of $425K. This recognition of New Braunfels as a top housing market to watch further solidifies its status as an investment hotspot.
Strategically nestled between the bustling cities of Austin and San Antonio, New Braunfels benefits from its proximity to major economic hubs, ensuring a flourishing local economy and a high quality of life for residents and businesses alike. The city's advantageous position offers a promising landscape for both residential and commercial development.
Potential drawbacks of buying land in New Braunfels
Nevertheless, prospective buyers must remain cognizant of recent market trends that have unfolded in New Braunfels. Notably, the city has experienced a slight decline in home prices, with a 7.5% drop compared to the previous year. This shift suggests a cooling market, potentially affecting the return on investment for land buyers.
Furthermore, the heightened demand for property in New Braunfels may introduce increased competition, potentially presenting challenges in securing land at favorable prices so you may want to move quickly if you find a location you like! Despite these considerations, the allure of New Braunfels as a captivating destination with abundant opportunities for growth and development remains undeniable.
McKinney
McKinney, a dynamic city nestled in the rapidly expanding Collin County, Texas, offers a captivating blend of history, modernity, and remarkable opportunities. Boasting an array of attractions and a thriving community, McKinney has become a sought-after destination for families and businesses alike.
Reasons why McKinney is a good place to buy land
One of the compelling reasons to consider buying land in McKinney is its strategic location within the bustling Dallas-Fort Worth metroplex. This prime positioning grants residents easy access to a wide range of amenities, employment opportunities, and entertainment options. Furthermore, the city's robust local economy provides a solid foundation for long-term investment prospects.
McKinney's commitment to preserving its rich history is another alluring aspect for land buyers. The city beautifully balances the preservation of its historic downtown area with contemporary developments. This unique blend creates an enchanting ambiance that appeals to both residents and visitors, offering a distinctive setting to establish businesses or build homes.
Potential drawbacks of buying land in McKinney
While McKinney offers tremendous potential for land investment, it's essential to consider certain factors. Recent trends in the real estate market indicate a slight decrease in home prices, with a 7.0% drop compared to the previous year. While this could present an opportunity for buyers, it also suggests a cooling market that might impact potential returns on investment.
Another factor to consider is the distance from Downtown Dallas or Fort Worth if you plan on commuting everyday!
Cedar Park
Nestled within the confines of Williamson County, Texas, lies the vibrant city of Cedar Park. Sitting conveniently to the north of Austin, this city strikes an excellent balance between family-centered living, commendable educational institutions, and a booming local economy, thus ensuring its residents a superior lifestyle. As a hub of entertainment, the city prides itself on the H-E-B Center, an eminent destination for sports and leisure activities.
Reasons why Cedar Park is a good place to buy land
Cedar Park's real estate market exhibits a pulsating vibrancy that continues to attract investors, notwithstanding the broader economic fluctuations. With the median listing home price being $535K as of June 2023, the market remains stable and promising.
Within driving distance to downtown Austin, coupled with a robust local economy and enviable living standards, makes Cedar Park a prime spot for residential and commercial property investments. The city's administration is decidedly pro-growth, offering unmatched opportunities for investors.
Potential drawbacks of buying land in Cedar Park
While Cedar Park offers numerous benefits, prospective buyers should also be aware of potential drawbacks. The escalating property prices may make the initial investment steep for some. Additionally, the rapid growth and urbanization could lead to overcrowding and increased cost of living in the future. Hence, it's crucial to conduct thorough research and consider potential long-term changes when investing in Cedar Park.
Conroe
Overview of Conroe
Nestled in the heart of Montgomery County, Texas, within the bustling sphere of the Houston metropolitan area, you'll find a charming city called Conroe. Famous for its breathtaking natural attractions, including the glistening Lake Conroe, this city calls out to anyone seeking both adventure and tranquility.
Reasons why Conroe is a good place to buy land
If you're contemplating investing in land, Conroe offers promising prospects. The real estate scene here is as lively as a Texas hoedown, with an average home listing price of $345K as of June 2023. What makes Conroe a treasure trove for land investors, you ask?
Well, it's conveniently located near Houston and Lake Conroe, presenting an irresistible combo of the best of city and country life. Beyond its location, Conroe boasts a vibrant economy and a lifestyle that makes every day feel like a holiday. Whether you're considering building your dream home or venturing into commercial development, Conroe's commitment to growth and progress makes it a land of opportunities.
Potential drawbacks of buying land in Conroe
While the idea of owning land in Conroe is undoubtedly attractive, there are a few points to keep in mind before making your move.
First it is important to remember Downtown Houston can be over an hour away during heavy traffic, and many roads are still 2 lane roads in 2023
Just like in any other real estate market, due diligence is key. Researching property values, understanding zoning regulations, and getting a grasp on the city's growth trends will help you make an informed decision and ensure you get the most out of your investment.
Round Rock
Round Rock, located in the vibrant Greater Austin area, boasts a dynamic city life infused with suburban tranquility. A global hub for Dell Technologies, the city presents a robust economy, coupled with world-class educational facilities and an engaging community vibe.
Reasons why Round Rock is a good place to buy land
Why Round Rock is a prime choice for land purchase? Its real estate market remains a dynamic entity, with home listing prices averaging at a competitive $480K as of June 2023. Given its strategic proximity to Austin and quality lifestyle offerings, Round Rock emerges as an attractive prospect for residential and commercial development ventures alike. The city's commitment to continuous growth amplifies its appeal for investors.
Potential drawbacks of buying land in Round Rock
However, investors should consider certain factors when buying land in Round Rock. Although the city's real estate market is lively, it may not be suitable for everyone due to the relatively higher cost of land compared to other regions in Texas.
The city's rapid growth might also mean increased competition for resources so wait times for plumbers, contractors and local doctors are increasing.
Another downside many people don't consider in every Texas city is the heat!
The intense Texas heat during summer can become extremely stifling, often exceeding 100 degrees Fahrenheit, which can be oppressive and deter outdoor activities.
This level of heat not only increases the risks of heat-related illnesses such as heat exhaustion and heat stroke but also escalates energy consumption due to the demand for air conditioning, leading to higher electricity bills. Moreover, the summer heat can exacerbate drought conditions, affecting agriculture and increasing the likelihood of wildfires.
Austin
Austin, Texas, also known as the "Live Music Capital of the World," is a bustling center of creativity and culture. This vibrant city boasts a rich tech landscape, housing Dell Technologies' global HQ, and a food scene that's a gastronome's delight. Throw in outdoor fun, a packed festival calendar, and you've got Austin!
Reasons why Austin is a good place to buy land
The Austin real estate market is teeming with opportunity. With a median home listing price of $594,893 in July 2023, it's a great place to invest. Its strategic location, thriving economy, and unmatched quality of life make it a magnet for both home buyers and businesses. Plus, Austin's pro-growth stance promises exciting prospects for investors.
The Austin tech scene's dynamic growth, populated by major players like Tesla, Apple, and numerous startups, offers robust employment opportunities, driving housing demand and increasing land value.
Additionally, the University of Texas' renowned programs and large student population create a steady rental market, further strengthening the investment potential for buying land in Austin.
Potential drawbacks of buying land in Austin
While Austin offers many opportunities, it's important to keep in mind the competitive nature of the local real estate market – it's a hot commodity, so be ready to act swiftly to beat out other buyers from California or New York!
Also, due to the city's rapid growth, you might face higher than average property taxes, but that's just a testament to the city's desirability.
Lastly, being such an eco-conscious city, there could be specific environmental regulations to adhere to when developing land, but it's a small price to pay for preserving Austin's beautiful natural surroundings.
Best Place to Buy Land and Build a House
If you're looking to build a house in Texas, Frisco stands out as an excellent choice – just move fast as space is limited for new builds in 2023! Frisco has the space growing families are looking for, without being too far from downtown Dallas or Fort Worth.
Located in the Dallas-Fort Worth metroplex, this rapidly growing city offers a high quality of life, top-notch schools, and a thriving economy. The city's real estate market has been notably strong, with a median listing home price of $725,000 as of April 2023. Frisco's diverse range of amenities, such as world-class sports facilities and a vibrant arts and culture scene, make it a sought-after destination for families and businesses alike.
Is it a good idea to buy land in Texas?
Yes, buying land in Texas can be a good investment due to the state's robust economy, population growth, and the potential for property appreciation.
Which part of Texas has the cheapest land?
Typically, rural areas in West Texas and the Panhandle region tend to have the cheapest land prices due to their remote location and lower population density. However, prices can vary greatly depending on specific factors such as proximity to major cities, local amenities, and land quality.
What is a good price for an acre of land in Texas?
As of 2023, a good price for an acre of rural land in Texas might range from $1,000 to $4,000, but it's important to conduct thorough research and consider factors such as location, market trends, and land quality before making a purchase.