Looking for a change of scenery? Thinking about moving to Texas from Virginia? You're in luck! There are plenty of reasons why moving to Texas in 2022 is a great idea. In this blog post, we will discuss 10 of the best reasons to make the move. Whether you're looking for better job opportunities or want to enjoy a more relaxed lifestyle, Texas has something to offer everyone! Keep reading to learn more about what makes our state such a great place to live.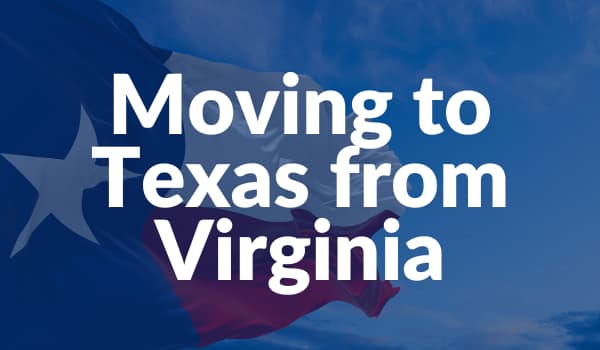 Why People are Moving to Texas from Virginia in 2022
Here are few of the many reasons people are moving to Texas from Virginia:
Warm Weather
It can get cold in Virginia, especially in the winter. If you're looking to escape the cold weather, Texas is the place for you! Our state enjoys warm weather all year round, with temperatures rarely dipping below freezing. You can say goodbye to shoveling snow and bundling up in heavy coats – just be careful in the heat!
Good Job Market
The Job Market is Booming. If you're looking for better job opportunities, you'll find them in Texas. Our state's economy is booming, and there are plenty of jobs available in a variety of industries. Whether you're looking for a position in healthcare, technology, or energy Texas is a great place to work. Cities like Dallas, Austin and Houston are home to small and large companies that are always hiring.
More Affordable Housing
In Virginia, the cost of living is high and housing costs are on the rise. If you're looking for a more affordable place to live, Texas is the perfect choice. In our state, you'll find a variety of housing options to suit your needs and budget. Whether you're looking for a small apartment for a single person or a larger home for a family, you'll be able to find it in Texas.
Lower Taxes and Cost of Living
Did you know that Texas has no state income tax? That's right – when you move to Texas, you'll keep more of your hard-earned money. In addition, our state has lower property taxes than Virginia. This means that you will pay less to the local city and county government in taxes.
The cost of living is also lower in Texas than it is in Virginia. This is due to a variety of factors, including the lack of state income tax, cheaper gas and lower property taxes. When you live in Texas, you'll be able to stretch your dollar further which is important for families on a budget.
Friendly People
Texans are known for being friendly and welcoming to newcomers. You'll find that people here are quick to help if you need it. Whether you need directions or a recommendation for a good restaurant, locals will be happy to offer their assistance. You'll quickly feel like part of the community in Texas
Good Housing
Texas is home to large, high quality housing for cheap thanks to the large amount of cheap land. You'll find plenty of beautiful neighborhoods to choose from, whether you're looking for a quiet suburb or a bustling city center.
Local Schools and Universities
If you have children, they will be able to attend some of the best schools in the country. Texas is home to many top-rated public and private schools. In addition, our state has several colleges and universities that offer a variety of degree programs. Whether your child is interested in STEM or the arts, they will be able to find a school that meets their needs.
Outdoor Recreation
In Texas, you'll never be bored thanks to our many outdoor recreational activities. From hiking and camping to fishing and hunting, there's something for everyone to enjoy. Some of our favorite places for newcomers to explore are the Big Bend National Park, the Guadalupe Mountains National Park, and the Texas Hill Country.
Costs of Moving to Texas from Virginia
Moving from the east coast can be expensive. The average cost of moving from Virginia to Texas is $4300. While this may seem like a lot, it's important to remember that the cost of living in Texas is lower than it is in Virginia. This means that you will save money in the long run by making the move.
One way to save money is to move during the off-season. The best time to move to Texas is from September to May. During this time, you'll avoid the heat and humidity of our state's summer months. You'll also be able to take advantage of cheaper moving rates.
Moving Advice
Starting your new life in Texas can be an exciting and rewarding experience. With a little planning, your move can go smoothly. Here are some tips to help you get started:
Create a budget: Before you start packing, take some time to create a budget. This will help you plan for the cost of your move and ensure that you don't overspend.
Get organized: Moving can be overwhelming, so it's important to stay organized. Make a list of everything you need to do and pack ahead of time.
Pack your belongings: Once you've gathered everything you need to move, it's time to start packing. Be sure to label all of your boxes so you know what's inside.
Hire a moving company: Hiring a professional moving company can make your life much easier. They will handle all of the heavy lifting and transport your belongings to your new home.
Frequently Asked Questions
How much does it cost to move from Virginia to Texas?
The average cost of moving from Virginia to Texas is $4300 but can increase for large families.
Is it cheaper to live in Virginia or Texas?
It is cheaper to live in Texas due to lower taxes and cost of living.
Is moving to Texas worth it from Virginia?
It is worth it to move to Texas from Virginia for the cheaper cost of living, good schools and universities, and outdoor recreation.