If you are thinking about moving from Michigan to Texas then your family is in for a big change! The Lone Star State is known for its warm weather and friendly people, however, before you make the move, there are some things you need to know.
In this blog post we will discuss the most important things to consider when moving from Michigan to Texas. We'll cover everything from housing and jobs to schools and taxes. So if you are considering making the move to Texas in 2023 keep reading to learn more!
| Pros | Cons |
| --- | --- |
| Warm weather | No snow |
| No state income taxes | Higher property taxes |
| Good job market | Expensive housing market |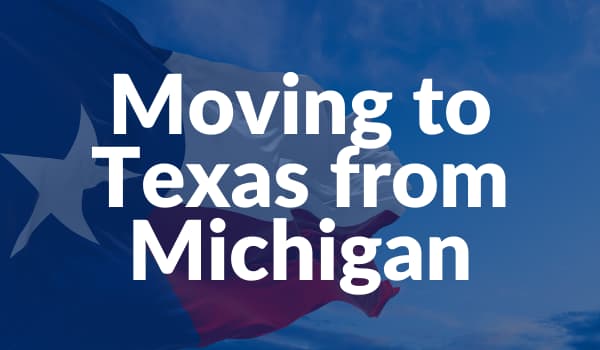 Why People Are Moving From Michigan
People are moving to Texas from Michigan in 2022 for a few reasons that make the state more attractive than Michigan. The main reasons are the weather, no state income taxes, and job market. Keep reading to learn more and get ready to move to the Lone Star State.
The Weather
In Texas, you will not have to worry about shoveling snow or bundling up in layers to brave the cold. The average temperature in Texas is a balmy 72 degrees Fahrenheit and it rarely snows. So if you are sick of the cold weather, Texas is the perfect place for you!
Texas Housing Market
The housing market in Texas is booming! According to Zillow, the median home value in Texas is $186,100. And over the past year, home values have increased by ten percent. So if you are looking to buy a home, now is a great time to do so before interest rates and house prices continue to rise!
Job Market
If you are looking for work, the Lone Star State has a booming economy. In fact, Texas is home to five of the country's largest cities: Houston, San Antonio, Dallas, Austin, and Fort Worth. So whether you are looking for a big city or small town feel, Texas has it all!
The main industries are oil and gas, finance, software and technology, healthcare, and manufacturing. The state also has a low unemployment rate of just four percent plus lots of companies are moving to the state like Tesla.
Schools
Texas is home to some of the best public schools and most respected colleges in the country. Schools like the University of Texas, Baylor University, and Southern Methodist University are all located in the state. And if you are looking for a great public school system, Texas has that too with great school districts in Dallas, Austin, Houston and El Paso.
Taxes
One of the biggest draws of moving to Texas is that there is no state income tax! That means more money in your pocket each month. Property taxes are also relatively low which means you can save more money each month! Michigan on the other hand has a state income tax of 4.25%, but keep in mind sales tax is slightly higher in Texas.
Moving Advice
Moving from Michigan to the Lone Star State can be a life-changing event. But with a little planning and research, it can be a smooth transition. Be sure to consider all the factors we've discussed before making your decision. And once you're ready to make the move, be sure to check out our moving services! We can help you every step of the way, from packing and moving to finding a place to live. So what are you waiting for? Start planning your move today!
Since the drive is so far we recommend hiring a moving company to transport your belongings for you! With a professional moving and packing company, you won't have to worry about loading a large truck or driving it long distances across the country.
Cost of Moving
Moving can be expensive! On average it costs about $2700 to move a two bedroom apartment from Michigan to Texas. This includes the cost of hiring a professional moving company, gas, and food on the road. So be sure to factor in the cost of moving when you are making your decision!
But there are ways to save money on your move. One way is to plan ahead and start packing early. This will give you time to purge any unwanted items and make sure everything is packed securely. Another way to save money is to compare moving quotes from different companies. Be sure to get at least three quotes before making a decision.
When it comes time to move, be sure to choose a reputable company that offers quality services at an affordable price.
Other Considerations
Other things to be aware of when moving to Texas are your Drivers Licenses, Car Registration, and Voting. You will need to get a new Drivers License within 30 days of moving to Texas. Your car registration can be done online or in person, and you will need to register to vote in your new precinct.
As you can see, there is a lot to consider when moving from Michigan to Texas! But with a little planning and research, it can be a smooth transition. Be sure to use our tips and advice to help make your move easier.
As you can see, there are many reasons to move from Michigan to Texas. The weather is warmer, there are no state income taxes, and the job market is booming. So if you are considering making the move, be sure to do your research and plan ahead! We hope this blog post has helped you in your decision-making process. Good luck!
Related Posts
Moving to Texas From Alaska
Moving to Texas From Colorado